The following menu items are available to users with admin rights.

Subscription details

You can find information about your subscription here. The name of the plan, the payment period (monthly or annual), the date and amount of the next payment. You can upgrade to a larger plan by clicking on the Change Plan button at the bottom of the page.
Upgrade plan

You can upgrade your plan from several locations.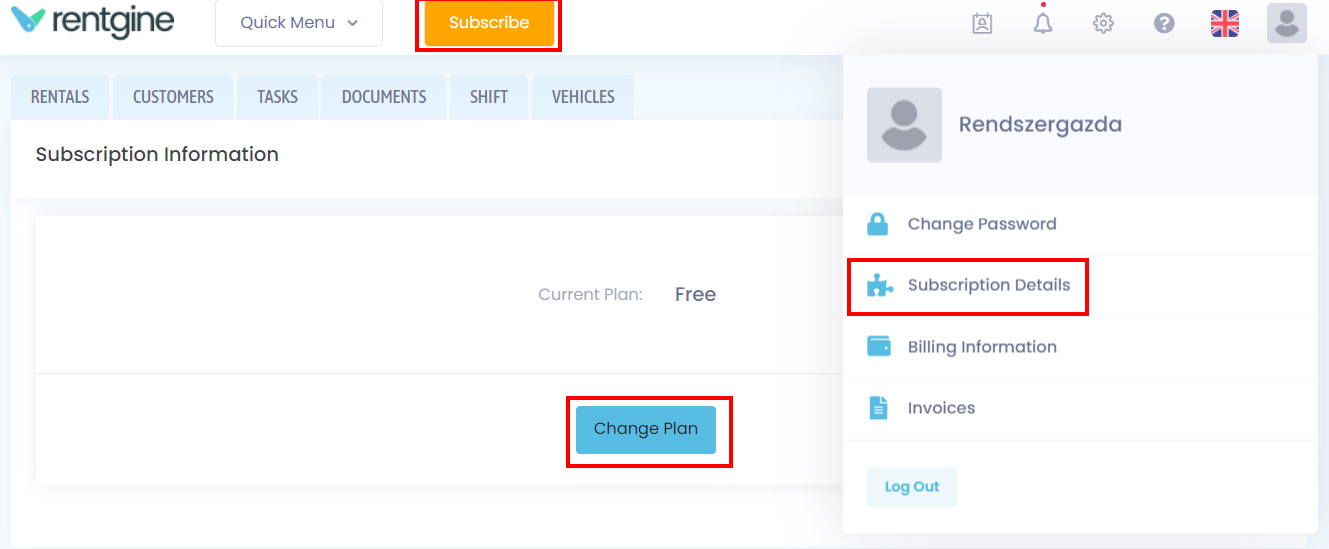 If you are using the Free plan, you can change your plan by clicking on the Subscribe button at the top of the page, or by clicking on the Change Plan button on the Subscription details page
In the plan chooser, you can see all the plans available to you. You do not have the possibility to downgrade your current plan and you will not see these smaller plans in the plan chooser. In the case of an custom package, it is also not possible to change the plan. If you still need to change your plan, please contact our customer support.

You can choose the best plan for you and also select whether you want annual or monthly billing. Once you have found the plan that suits you best, click on the I choose this button under the relevant period. A page will then appear where you can see your billing details, the plan you have chosen, the amount you will have to pay for the period. If you have not found the right plan for yourself, please contact our customer support team for further options.
Billing details

You can find your billing details here. The system uses this data to generate monthly or annual invoices.
Invoices

You can find your invoices here. Click on the

icon on the left to download the relevant invoice. If there is a tick in the "Paid?" column, the payment of the invoice has been approved.